Yesterday was our Oath-Taking ceremony. It was full of pride and joy; and to celebrate the occasion even more I made this special bread.
It is a panettone-like bread in terms of flavor but I added just a tablespoon of butter. Why? Because I have other plans for this bread. The dough was made with bread flour, all-purpose flour (because I ran out bread flour), eggs, sugar, salt and butter. Kneading was only 20 minutes and it made a strong windowpane perhaps because of the all-purpose flour with less gluten. The dough was rich even with just a bit of butter because aside from the water in the levain, all the liquid came from the eggs. My starter was slow in raising this dough so I left it overnight at room temperature for bulk fermentation. Great decision. After 12 hours it was doubled, nicely risen and fermented.
I don't have candied peel so I added only raisins in the dough but because I want to pack as much raisins as possible; I stretched it into a thin and long rectangle then scattered raisins rolled it from the long end and coiled into a snail to shape it before proofing it in the tin. I did not soak the raisins because I don't want extra moisture and I want the raisins to even dry the dough. Proofing took 4 hours and it is as high as the tin before baking.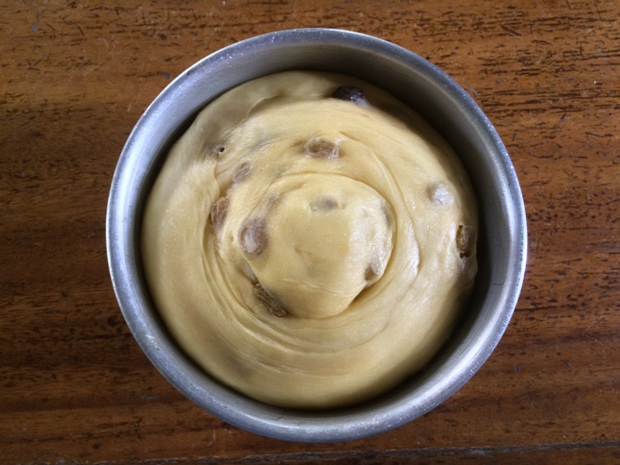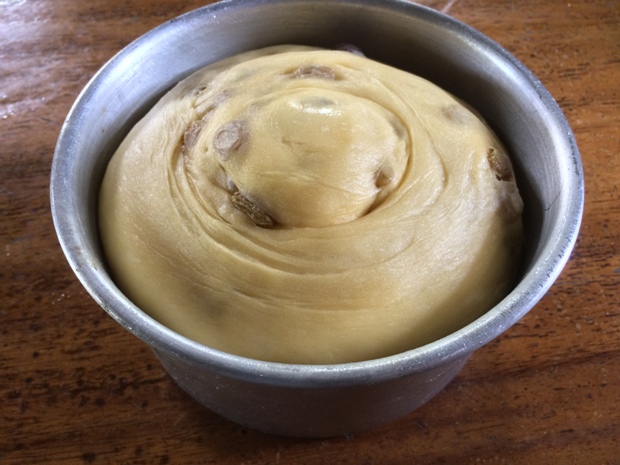 Hence, it made a nice dome after baking. The sides were a lovely golden brown with blisters the there was even a little browning on top. I can't believe that I made this lovely bread. It has an air of an "Alfonso Pepe" Panettone.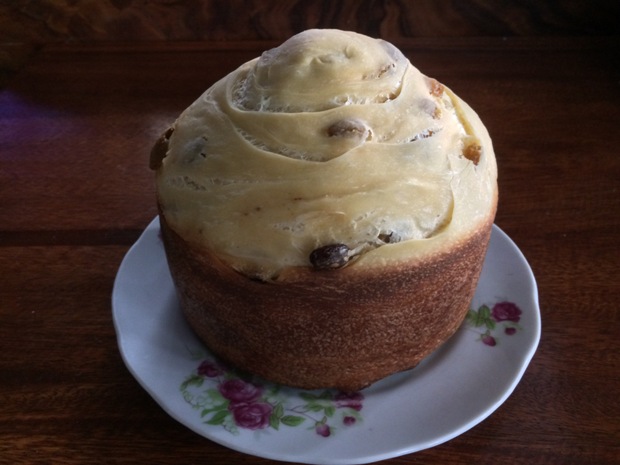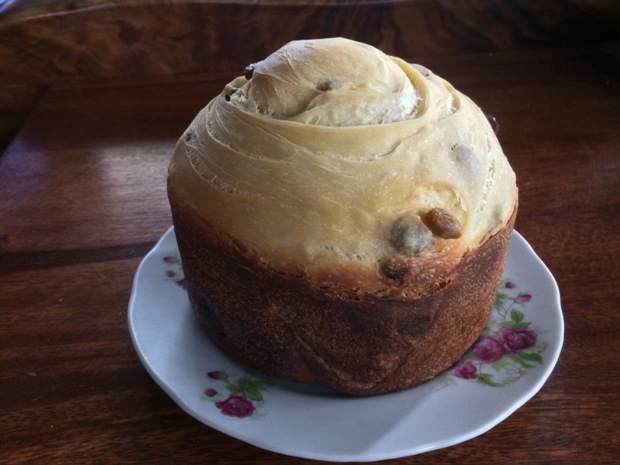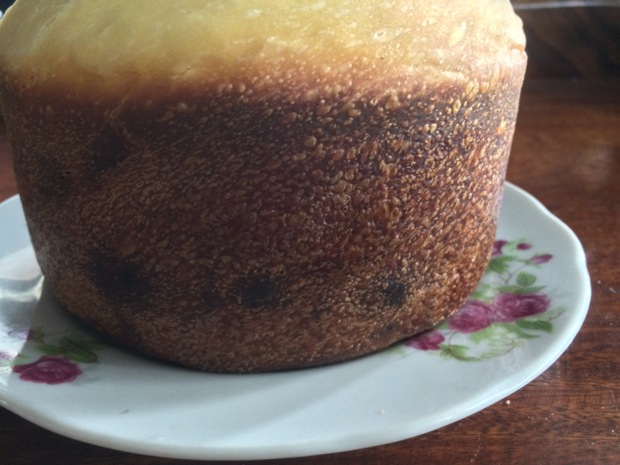 Look at those blisters.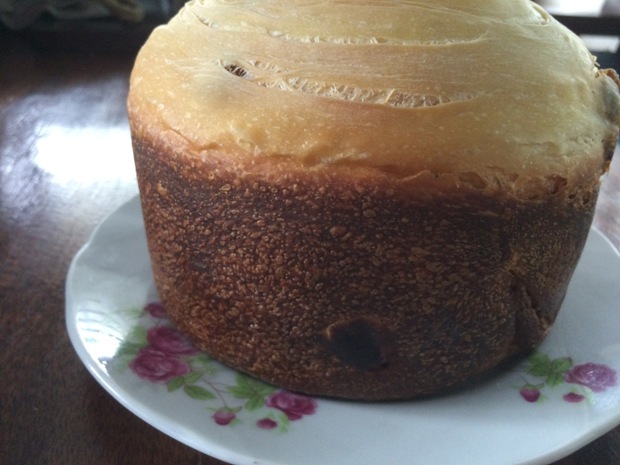 My plan for this bread is to turn it into a special bread pudding for a special occasion. A more elegant one because it involved the whole bread being turned into a pudding unlike other puddings which use cut-up bread. To make this pudding I let this delicious bread dry (I originally intend to use the word "stale" but decided against it because it was just dried with no stale flavor) in the fridge for 2 days then bathed in a rich custard flavored with orange and vanilla to make a similar flavor profile to my panettone french toast dream that didn't materialize last time. I think this bread and bread pudding is special because you make a bread with the pudding in mind, you make a special bread with a purpose rather than finding a way to save a bread that you unintentionally let stale. I added very little butter because I want the crumb to be sturdier because it will be soaked in custard so it will still have integrity when it is already a pudding.
I cut the dome off the bread last friday for a neat finish and to facilitate the soaking of the bread and it was a substantial snack for on Friday afternoon. Here is the inside of the freshly baked bread. It was not feathery but still light, soft and fluffy. No tang at all with the right sweetness and so aromatic. It was a very good raisin bread.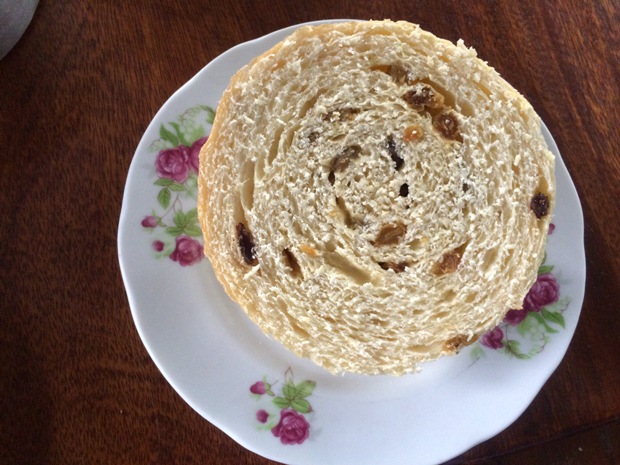 The dome.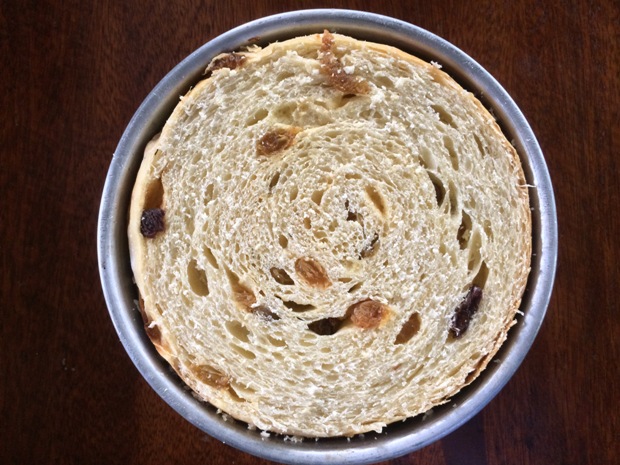 This is the portion that wias turned into a pudding.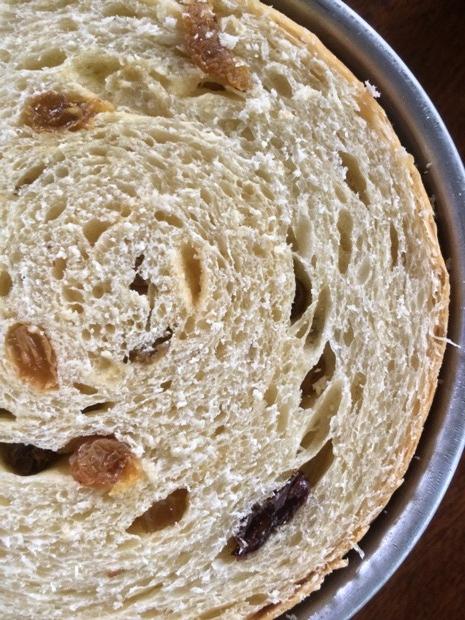 The fridge did a very good job in drying this bread so it absorbed the custard well. I bake the bread last Friday and the custard on Saturday night because I know we will be euphoric from the Oath-Taking ceremony and might not have the energy to do thing so I prepared things in advance so I can just bake this pudding straight away to celebrate. When we got home yesterday, everything was prepared so I just soaked the bread with the custard. Perfect time-saver because we were already tired from the long travel and we were trying to catch a replay of the Pacquiao-Matthysse fight. 🙂 I'm happy for our senator's win but I'm happier for my parents yesterday.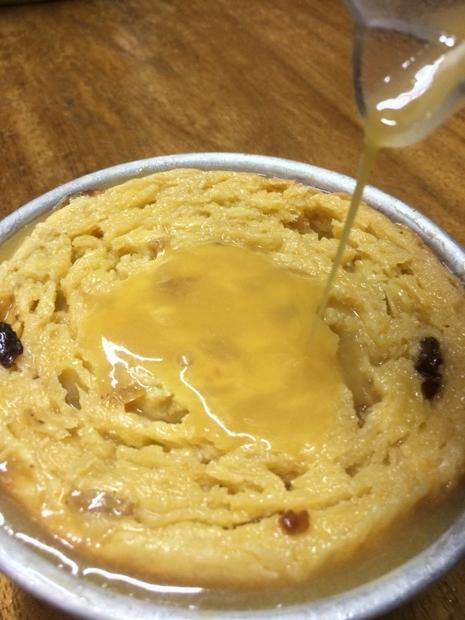 Here is the bread getting bathed in custard.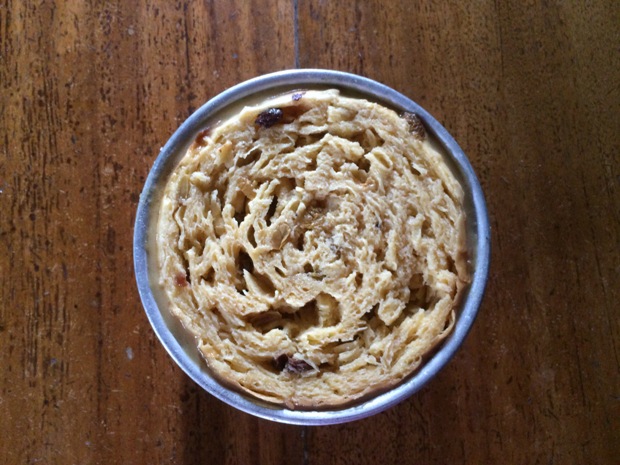 After an overnight custard soak.
I baked the bread pudding for 20 minutes over live fire and 20 minutes over ember just to dry the center. I knew it was done because I can smell it from upstairs, so aromatic! I was greeted by this beauty when I opened the clay pot. It looks very silky!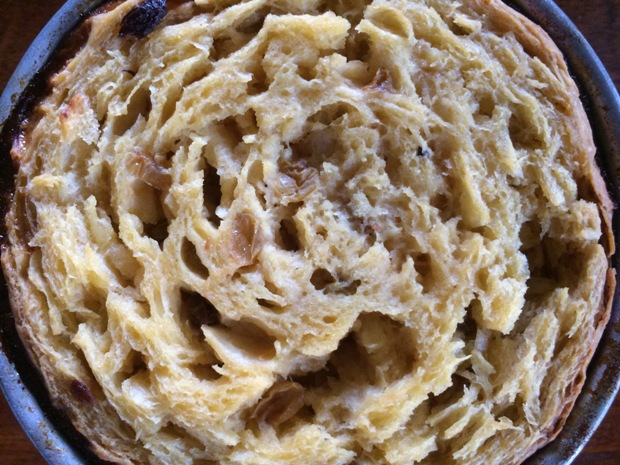 The bread definitely became plumper and heavier and the lines became harder and straighter. I love how it looks!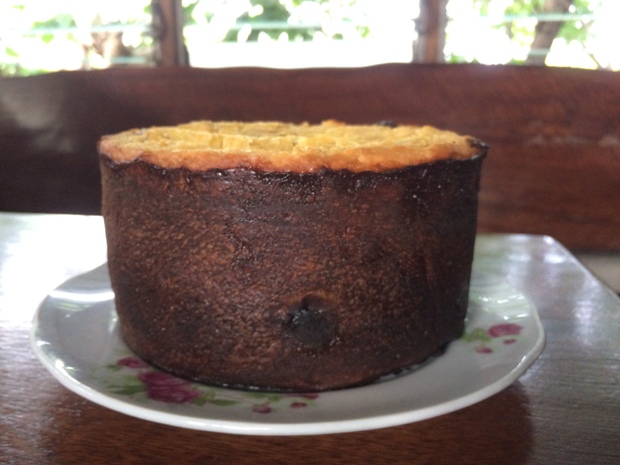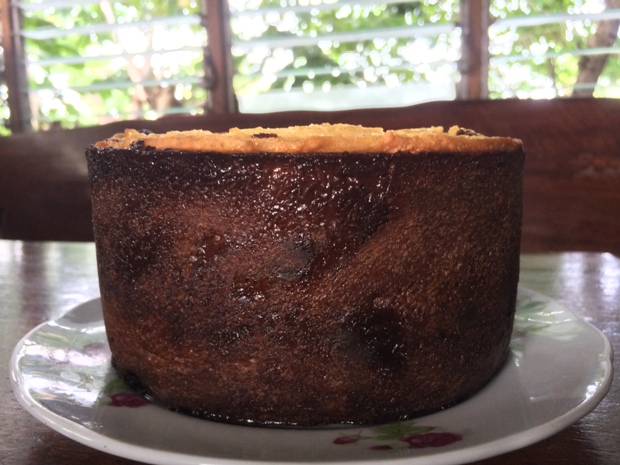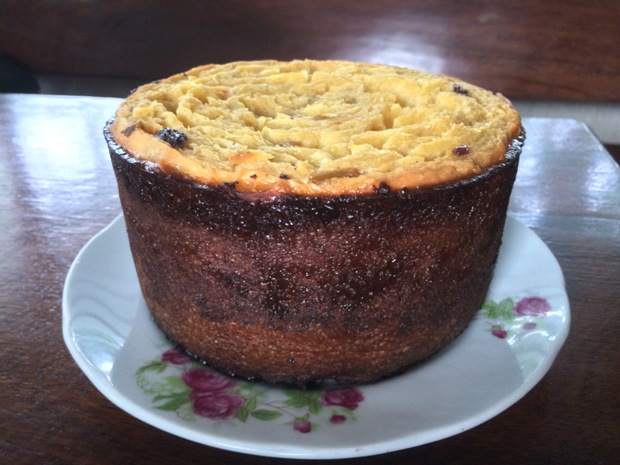 I love how the sides are crispy and the inside is so silky and custardy! Perfect contrast! And the crumb maintained its structure that I have an idea how the fresh bread looked from the inside. My orange-vanilla custard trick worked too, it feels like I am eating a panettone bread pudding with plump and juicy raisins. It's like turning a whole panettone into French toast. The texture was different from a normal bread pudding. It feels like eating a very moist and silky slice of bread. It's hard to explain. It's just so good, perfect for the occasion!

My dad was so excited to taste so he cut it immediately into perfectly neat slices.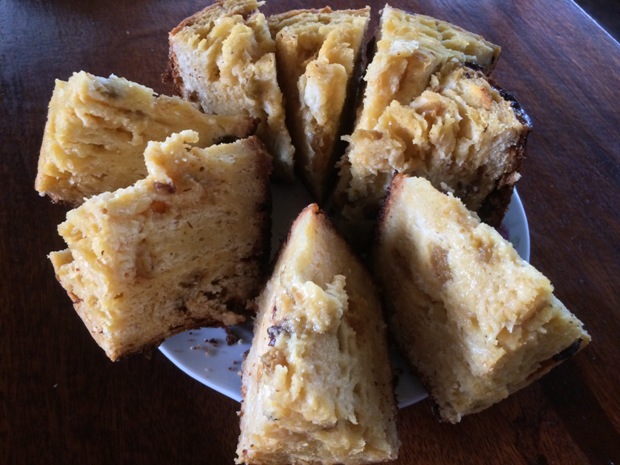 A truly memorable treat for a memorable occasion!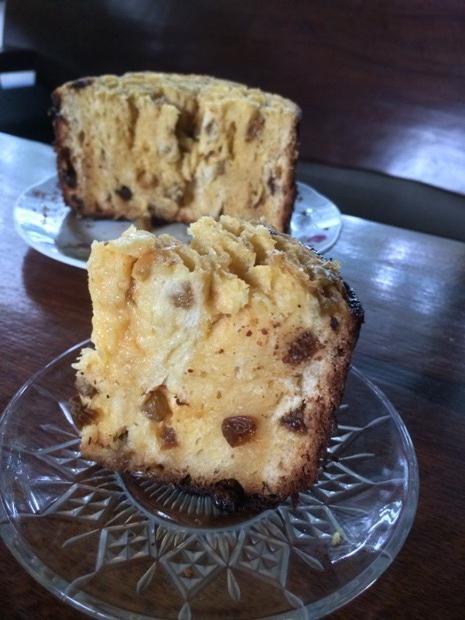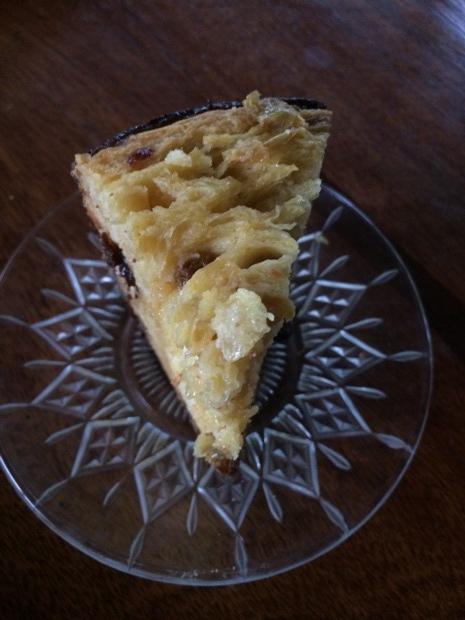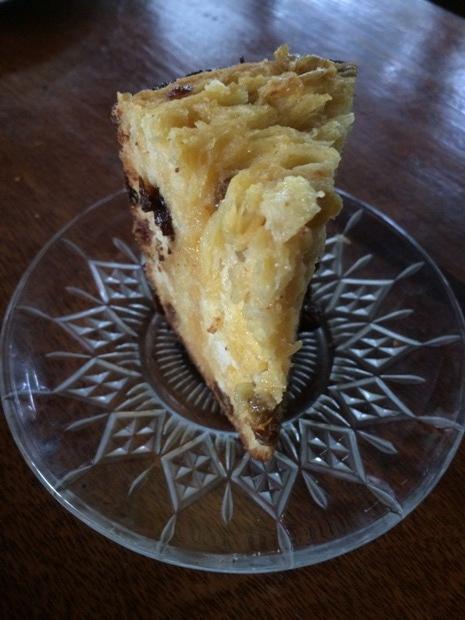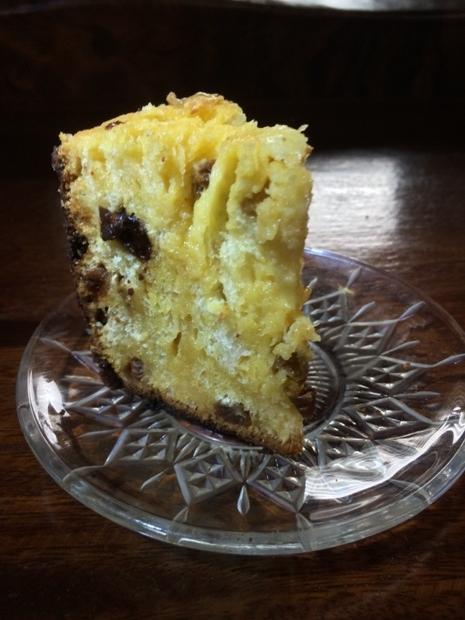 ————————————————————————————————————————————————————
Some pictures from the Oath-Taking Ceremony.
I wore a traditional formal wear reserved for the most formal of occasions.
Any formal wear would do but I decided to wear my best Barong Tagalog because our Code of Ethics states that each teacher is a trustee of the cultural and educational heritage of the nation and is under obligation to transmit such heritage as well as to elevate national morality, promote national pride, cultivate love of country, instill allegiance to the constitution and all duly constituted authorities, and promote obedience to the laws of the state.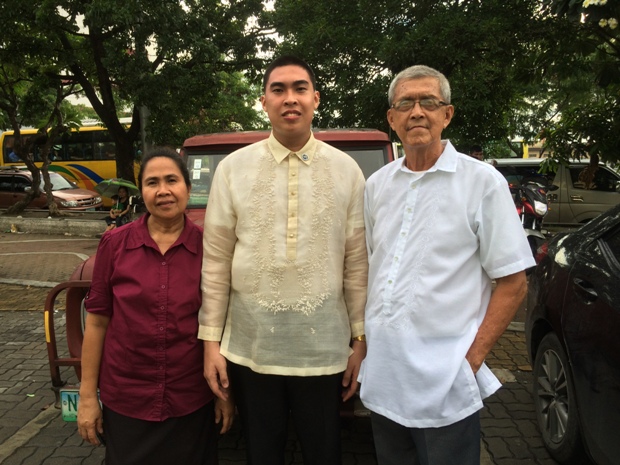 WIth my very proud, happy and thankful parents.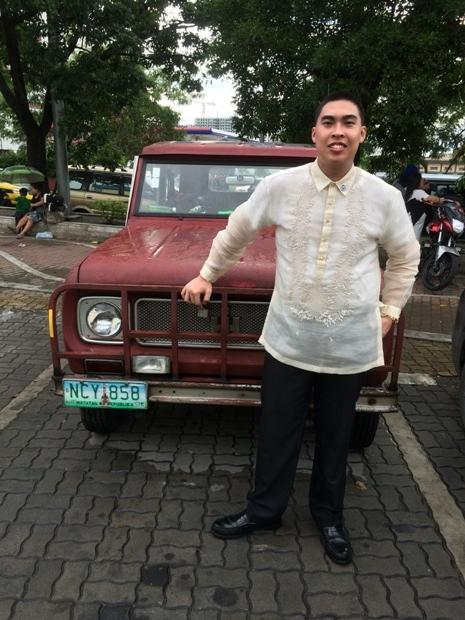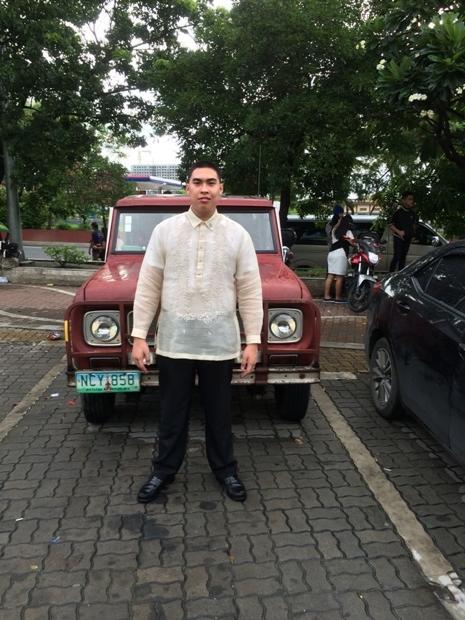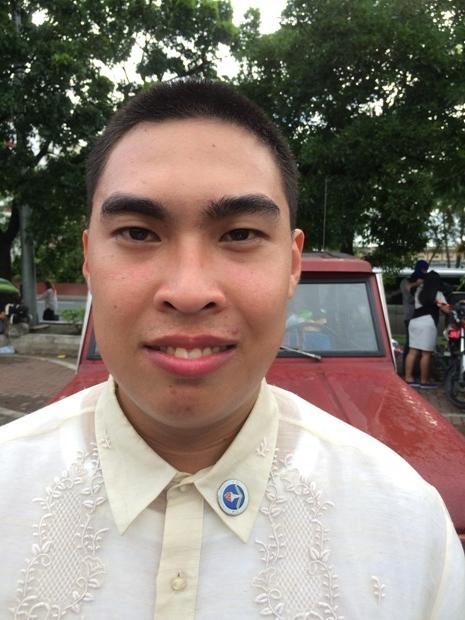 With the pin signifying that I am already a fully-fledged Licensed Professional Teacher.
It was a once in a lifetime experience. I felt goosebumps especially when we spoke our oath and I almost stuttered with some of the words. All of the sleepless nights, time, money, effort of mine and my parents did not go to waste. I managed to hold back my tears especially during the singing of the Hymn of Professionals with lyrics like this.
Propesyonalismo at integridad
Professionalism and integrity
Responsibilidad sa bayang nililiyag
(Our) Resposibility to (our) beloved nation
Kahusaya't kaalaman
Excellence and Knowledge
Taglay naming mga propesyonal
Us professionals have
I think I almost cried because I felt each word, the gravity of the duties that are now on our shoulders and the challenges that await us and that even in my lowly condition in life, I am now considered a professional.
With all the pride and joy comes this tremendous duty and responsibility. This is not the end, this is just the beginning of real life journey and I can't wait to practice it to touch and mold young lives. The achievements of mine are now finished, it is about my students now. It is now a lifelong goal to be the best teacher that I can be for my students. Thank God for everything! Thank you for taking the time to read this and thank you for letting me into your life!