This post is sponsored by Swell Foods. All opinions are my own and I only work with brands I love and trust to bring you the very best!
Gooey and rich Brown Butter Pizookie topped with ice cream and chocolate syrup is the perfect dessert for cookie dough lovers!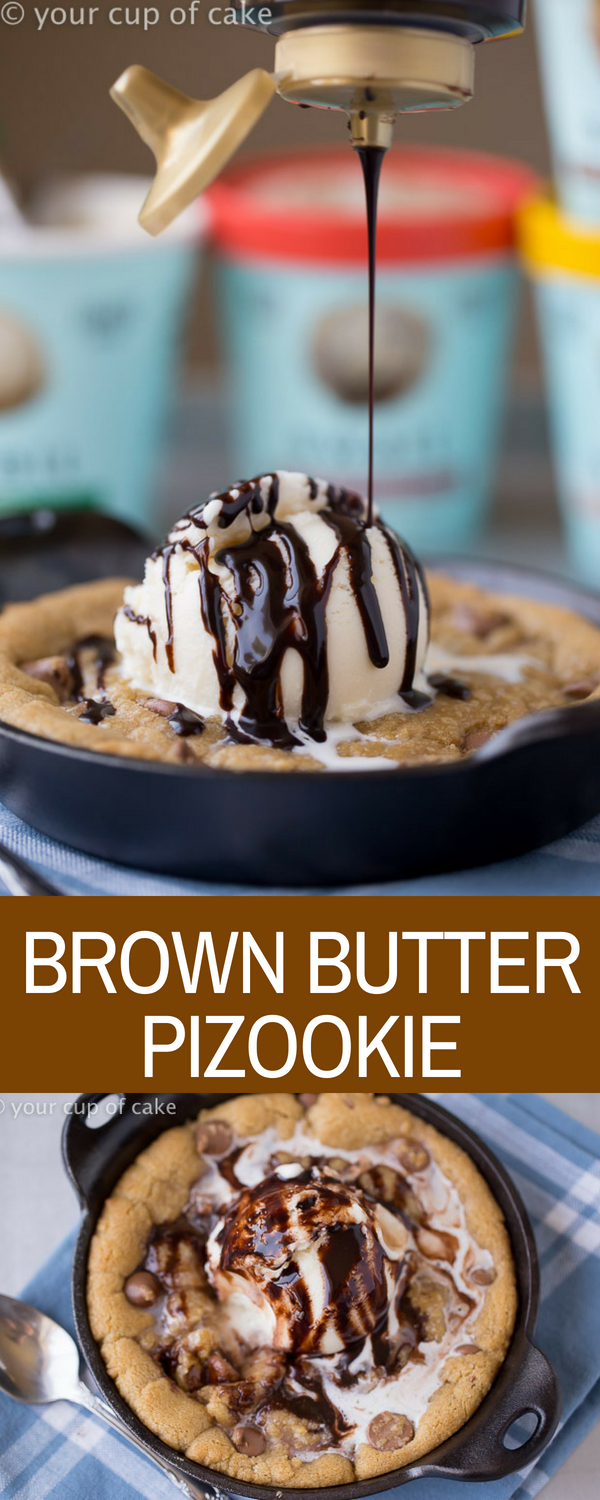 Brown Butter Pizookie Recipe
I love pizookie! If you're asking yourself what on earth I'm talking about, let me fill you in!  Pizza + Cookie = Pizookie! You bake cookie dough in a cast iron or a cake pan and then top it with ice cream when it's hot out of the oven! The ice cream melts all over the cookie and it's the most perfect combination.  Some people like to half bake their cookies so thats it's nice and gooey inside.  Either way, it's my favorite dessert! I got my husband to marry me because I always had pizookie stuff on hand! But this last week I wanted to find a way to make it even better, so I jumped on the brown butter train and made a Brown Butter Pizookie!  This. Is. Incredible.  Thanks to the lovely people at Swell Ice Cream for inspiring me to make an ice cream dessert to cool off from these hot summer days!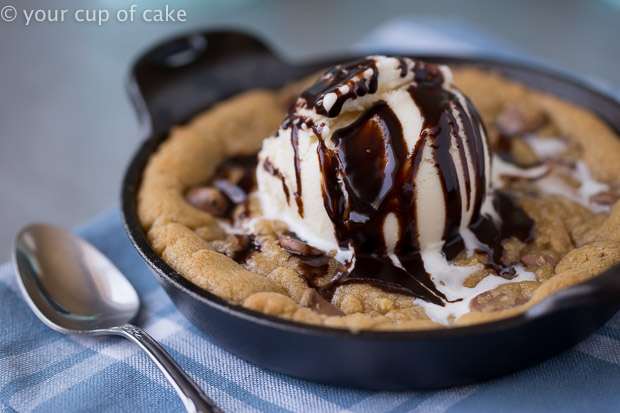 What is Brown Butter and How do you Make It?
To make this decadent Brown Butter Pizookie we need to make brown butter. It's called brown butter because after you're done cooking the butter over the stove it's more of a brown caramel color! You're basically cooking off some of the water in the butter and when it evaporates it turns a darker color.  Place your butter in a sauce pan over medium heat.  Constantly stir so that it cooks evenly.  It will melt, then bubble, and then foam.  Once it starts foaming is when you'll want to watch it like a hawk! You don't want it to burn! There are variations on how much you can brown your butter so if you're worried you can pull it off early.  I like to cook mine until it smells sort of like caramel corn (some people say it smells nutty).  Pull it off the heat and pour it into a different bowl to stop the cooking!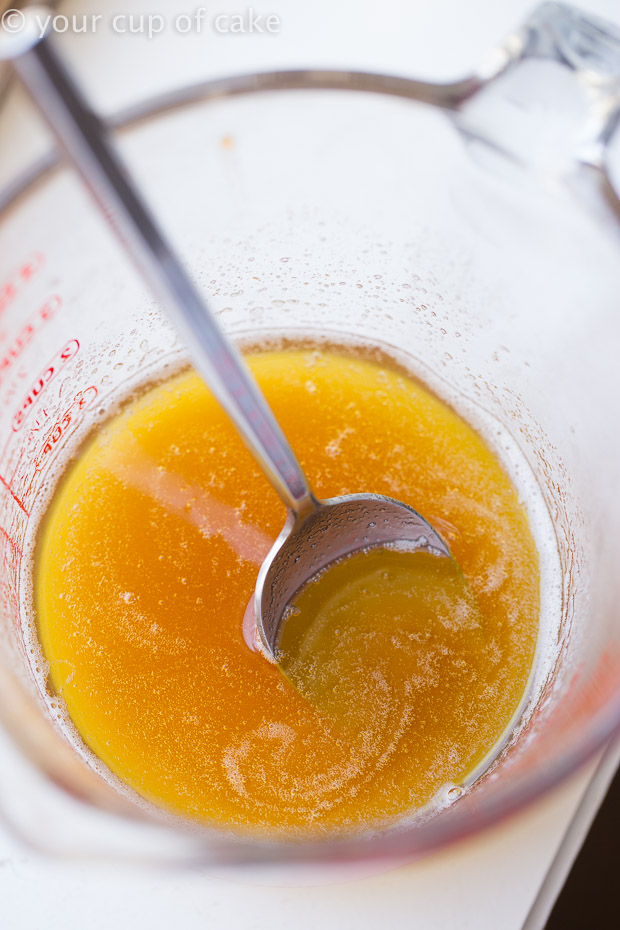 If you look at a spoonful of the brown butter you can see little speckles in it!  Make sure you let it cool before adding it to your cookie dough!  You don't want to cook your eggs!
Is Baking with Brown Butter Better?
I won't say it's necessarily better, but it does create a very different taste.  It's richer and fuller in flavor.  A lot of people brown their butter for rice crispies and other cookies. I LOVED these cookies.  My husband and I both flipped out when we first tried them because browning the butter totally changed how they tasted.  This Brown Butter Pizookie is our new go-to dessert for date nights!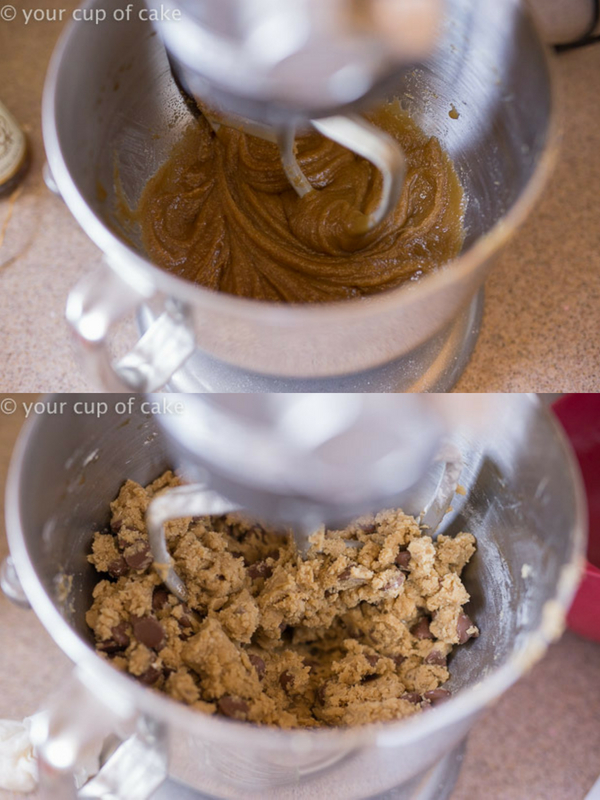 A little trick… sprinkle some coarse salt on top of your Brown Butter Pizookie before it goes into the oven.  It creates awesome layers of flavor!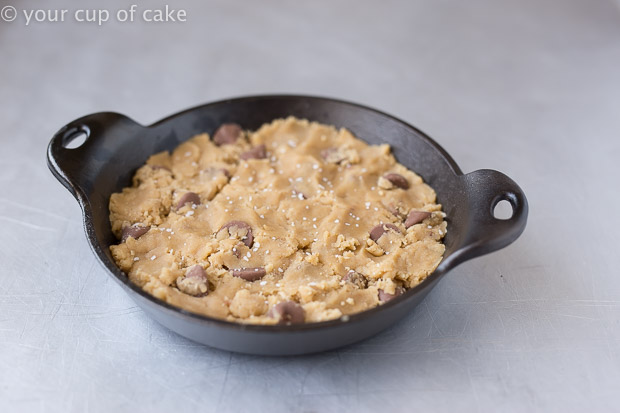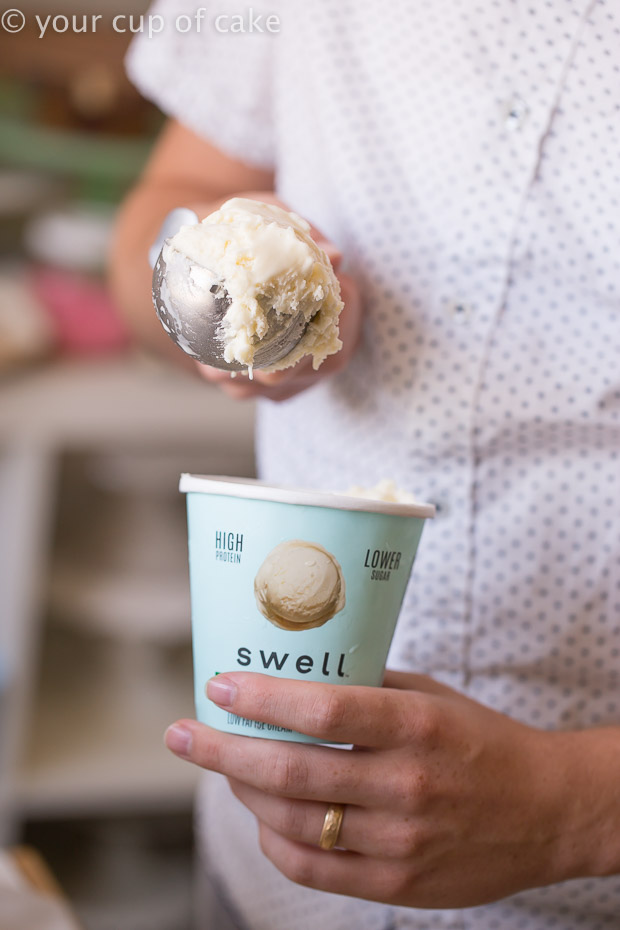 The Best Dessert with Ice Cream
I love ice cream.  Ever since I can remember I have been sneaking into the freezer and filling up a bowl, glass, mug or anything with big scoops and then snuggling up with a blanket to enjoy it.  Over the last few years, healthier ice cream has become more popular.  Swell, the Next Wave of Ice Cream to the rescue! It has more protein than any other ice cream on the market! Low- fat, low-calorie, lower sugar and clean!  No preservatives or artificial colors in these cute little cartons!  If you're wondering what grocery stores carry Swell Ice Cream check out their store locator! I have been loving trying all of their fun flavors like salted caramel crunch and mint chip! Yum! There's even an iBotta coupon in their shopping app!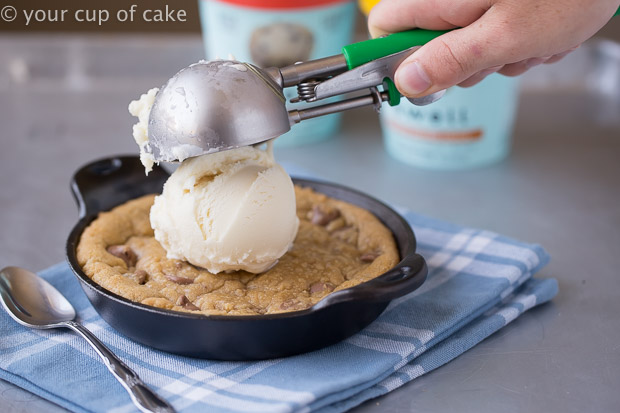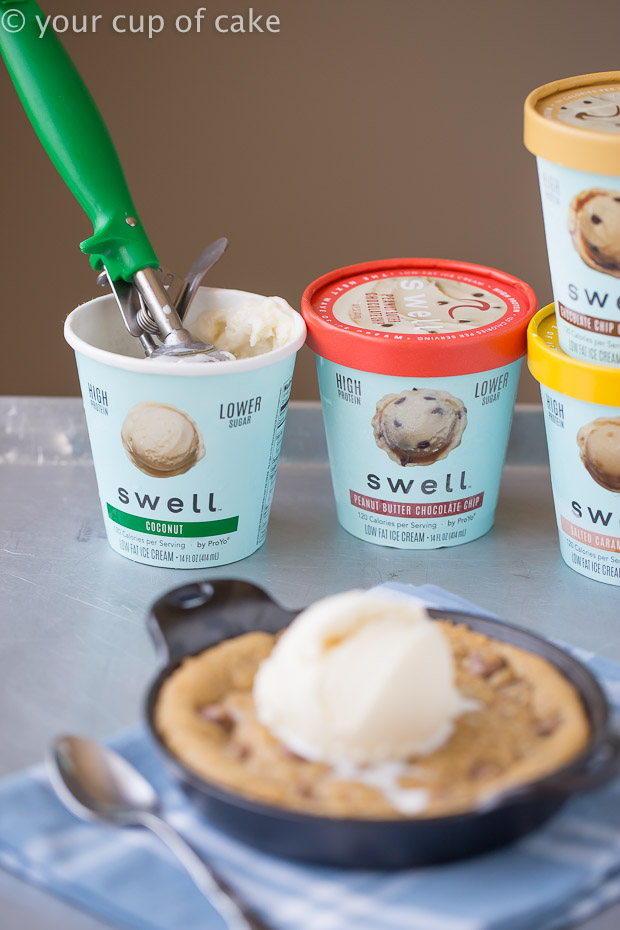 The chocolate syrup is totally optional, but I just couldn't resist for the photos!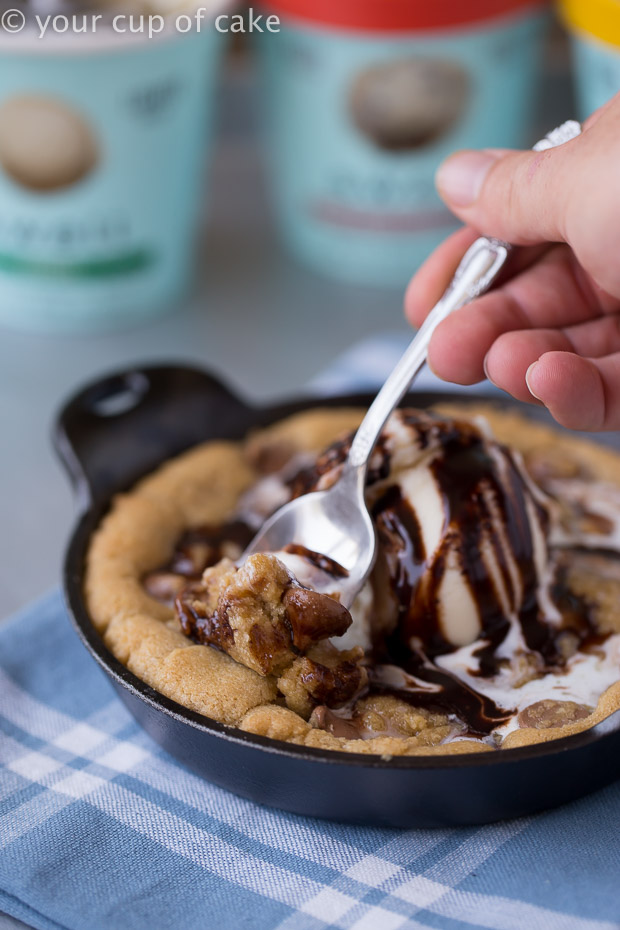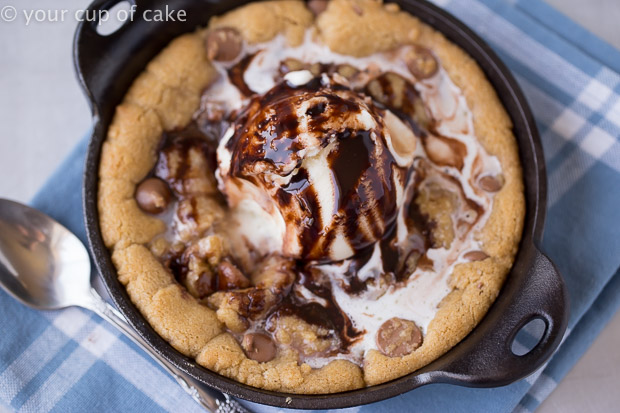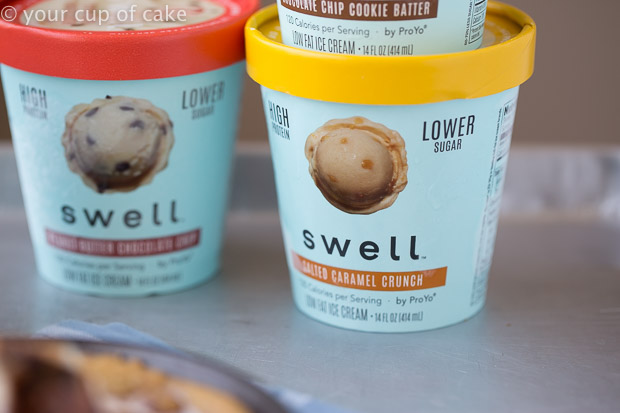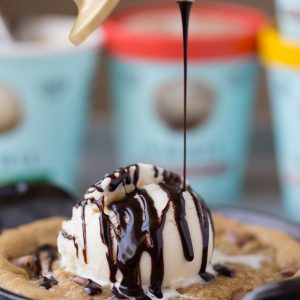 Brown Butter Pizookie
Gooey Brown Butter Pizookie for Cookie Dough Lovers
Ingredients
1




cup




butter




unsalted

2 1/4




cup




flour

1




tsp




baking soda

1/2




tsp




salt

1 1/2




cup




brown sugar

1/4




cup




sugar

1




egg




large

1




egg yolk




large

2




tsp




vanilla extract

2




Tbsp




milk

1 1/4




cup




chocolate chips

coarse salt




for sprinkling

1




scoop




Swell Ice Cream
Instructions
1. Place butter in a small sauce pan over medium heat.  Stir constantly.  Butter will melt, then bubble and then foam.  Once it is foaming watch carefully to not let it burn! Once it smells nutty (mine smelled like caramel corn) remove from heat and pour into a different bowl to stop it from cooking.  Let cool for 5-10 minutes.

2. Combine flour, baking soda and salt in a bowl.  Set aside.

3. When the butter is cool enough to touch with your finger, beat butter and sugars (brown and granulated) in a stand mixer.  Add egg and egg yolk one at a time.  Scrape down the sides of the bowl as needed.  Add vanilla extract and milk.

4. Slowly add in dry ingredients and then chocolate chips.

5. Let dough chill in the fridge for 2-3 hours.  Don't skip this step!

6. Preheat oven to 350 degrees and press cookie dough into pizookie pans.  You can use cake pans, cast iron pans or even a casserole dish to feed a bunch of people! Sprinkle coarse salt on top and bake for about 10 minutes for small dishes!  Larger pans will take more time!

7. Top with scoops of Swell Ice Cream! Enjoy!
Other Recipes You'll Love!