A bit of a come-on, but for comparison the lead photo is my standard 84% hydration ciabatta crumb, as is this next of a full loaf.
Friends soon visiting asked if I could bake ciabatta for them.  I had to re-aquaint myself. Rather than make my old standby ciabatta at 84% hydration, I wanted to try another option.
A video by The Artisan Crust's Scott MeGee has an interesting take on this bread.  In response to two separate comments, Mr. MeGee quotes the hydration first as 66% and later as 76%.  If you've ever made ciabatta yourself and then watch this video, I doubt that the huge billowy pillow of dough that he folds and then divides is anything like your own personal experience. It certainly wasn't and isn't like mine.  If you can duplicate his dough's characteristics I'd surely be curious as to how.
The 76% version makes a fine ciabatta with one glaring exception – it does not produce the large hole structure that we associate with this bread.  I'm personally not too enamored by large holes.  Beyond an open crumb, I really don't care.  This 76% version otherwise maintains that true ciabatta look, smell, feel and taste.  That's good enough for me.
The 66% hydration version was next.  Amazingly, at divide time, the jiggly blob of dough that tumbled out of the container could just as easily be mistaken for a dough with hydrations of 10% and even 20% higher.  Once out of the mixer it was near impossible to tell this dough from the 76% or even an 85% ciabatta dough when it came time to fold, divide and bake.  On the downside I didn't detect the same ciabatta smell and flavor from this 66% version.  Maybe it was just playing with my head (and nostrils).
My takeaway is that with little, if any, additional work the 76% was the superior version.  And I anticipate that my shaping of these, although already pretty fair, will continue to improve over time.
I like how he shapes the dough and then refrains from stretching it until moving from the well-floured couche to the baking peel, neither of which I had ever done before in this way.  With the jelly-like quality of both versions, shaping is a task but doable.  The dough just isn't what you see in his video.
I agree with dabrownman when he says that the holes have no flavor and you can't eat them.  If you are in the market for a ciabatta with those giant holes, this is not the bread for you.
For both versions, I differ from Mr. MeGee's formula in that I used an overnight 40% prefermented flour biga instead of making this a direct dough.   Prior to the double-hydration bassinage of water and olive oil, I removed the dough from the mixer and gave it ~100 French Folds, with a 5 minute rest halfway through.  The 66% dough is much stiffer as it isn't a full 66% until the bassinage has completed, and therefore I had to add some of the second hydration to make it workable on the bench.
Then back into the mixer.  Both the timing of the mix and the speed of the mixer were far far different from what is in the video.  Mr. MeGee's stated mixing time is with his large commercial rotating bowl spiral mixer. I have an old Kitchen-Aid planetary stand mixer where the dough hook and action of my mixer leaves a lot to be desired.  I've never been satisfied with its performance the few times that I use the dough hook.  The speeds of my mixer varied from "2" for incorporation of the second hydration, up to "6" and finally to "8" to thoroughly finish the mix.
The mix with this dough hook is done when the dough provide that familiar slapping sound and goes though successive phases of being pulled up off the bowl and onto the hook and then dropping back down to the bowl again.  There is an awful lot of mixing friction that raises the dough temperature, hence the use of a cold biga and cold water.
The 76% hydration ciabatta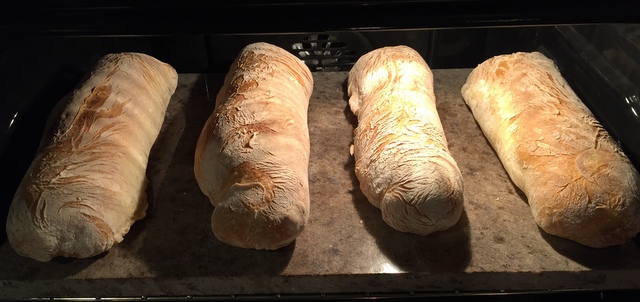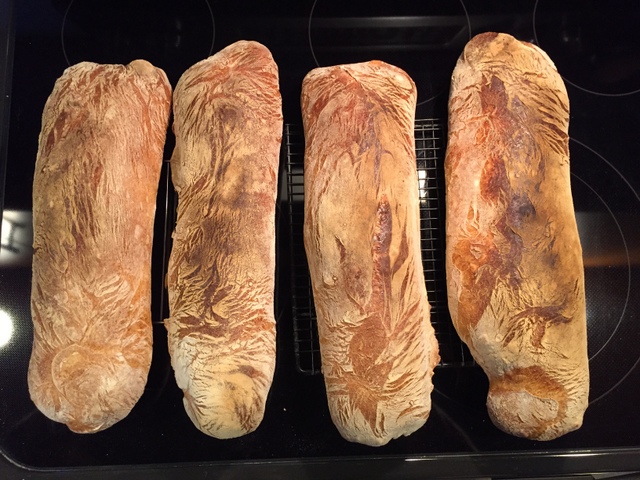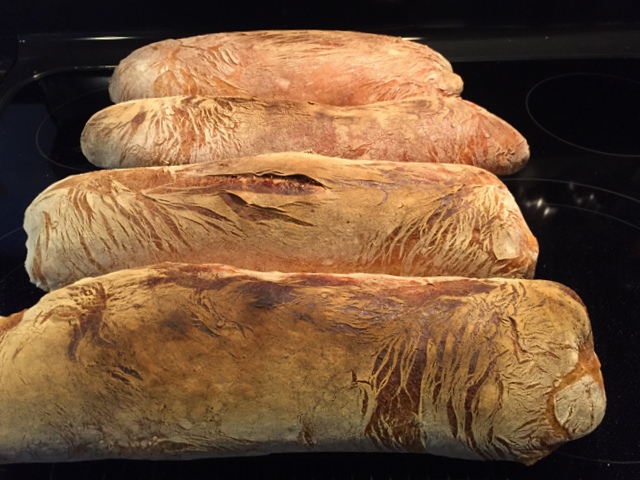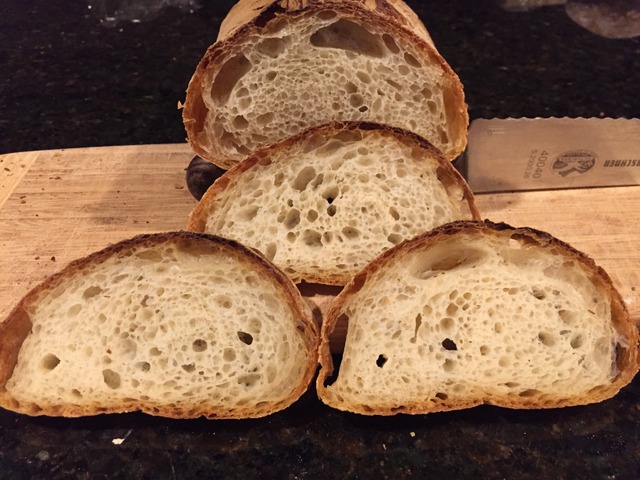 The 66% hydration ciabatta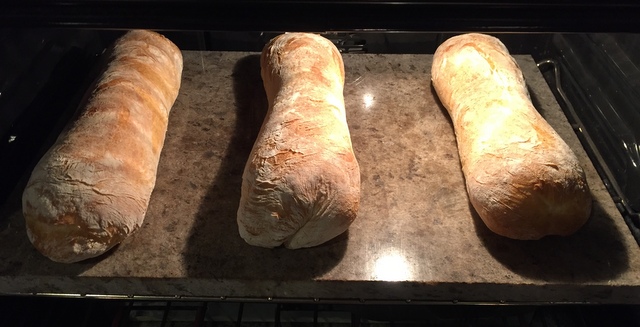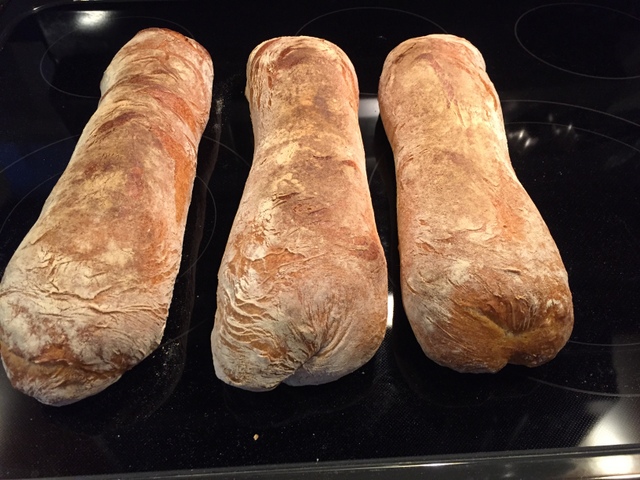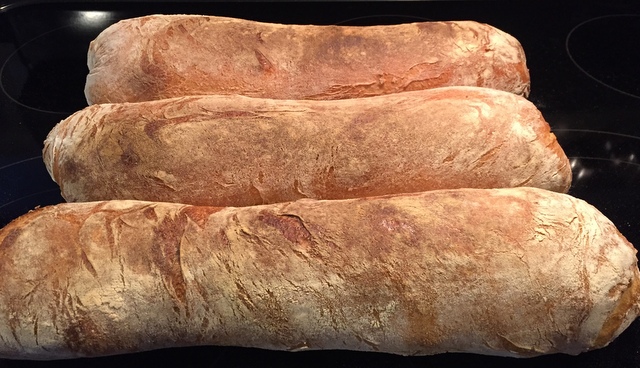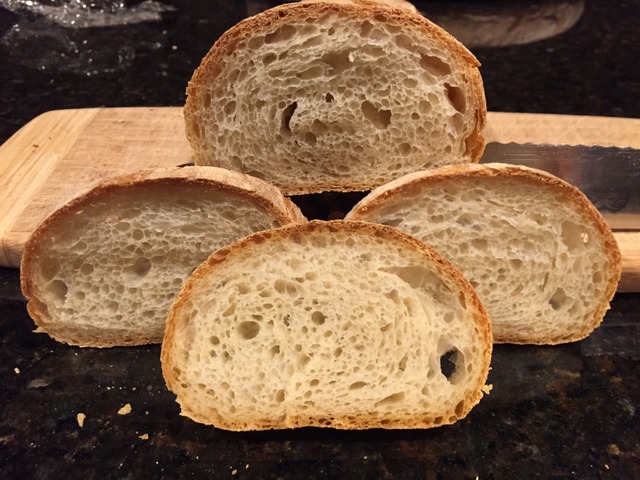 My version of his 76% hydration ciabatta using a biga formula.  2x ~500g loaves:
Ciabatta w/Biga @76% Hydration
Scott MeGee, alfanso
Total Flour
Total Dough Weight (g)
1000
Prefermented
40.00%
Total Formula
Biga
Final Dough
Ingredients
%
Grams
%
Grams
Ingredients
Grams
Total Flour
100.00%
550.4
100.00%
Final Flour
330.2
Bread Flour
100.00%
550.4
100%
220.1
Bread Flour
330.2
Water,cold
76.00%
418.3
66%
145.3
Water
218.4
bassinage
54.6
Olive Oil
3.00%
16.5
Olive Oil
16.5
Salt
2.10%
11.6
Salt
11.6
IDY
0.60%
3.3
0.14%
0.31
IDY
3.0
Biga,cold
365.7
Totals
181.70%
1000
166.14%
365.75
1000