…Ang inyo pong abang lingkod ay isa nang ganap na guro..!
Yours truly is now a fully-fledged teacher.
Yes, that's the good news that I've been wanting to share for so long but just couldn't find the right opportunity; since it is October 5 today which is celebrated annually as World Teachers' Day, I think it is now the perfect time to share it! I was just hired last September and I've been practicing the profession for almost a month. I consider my self truly blessed this year from passing the board exam to getting hired as a public school teacher. It's very difficult to get hired in public schools due to the strict selection process and I was even luckier considering that I have no teaching experience which a huge chunk of the overall criteria.
I am quickly adjusting to the new environment and busy schedule. My students get a reprimand from me almost everyday that I began questioning myself if what I was doing is right but I came to realize that it was an early sign of developing genuine love for my students that I am here to guide and correct them so they can be a step closer to their dreams.
I am teaching 3 subjects currently to 80 Grade 7 students. AP (Araling Panlipunan – Social Studies – Asian History); MAPEH (Music, Arts, Physical Education and Health); and TLE (Technology and Livelihood Education – Handicraft Production – with focus on Embroidery). Who would have thought I'll be handling these especially the last two since I have never considered my self athletic or artistic. 🙂 It was challenging at first but I am slowly getting the hang of it, from actual instruction to classroom management. Classrooms can be chaotic sometimes due to 13 year olds emotional turmoil thrown into a melange of puberty and constructing their personal identity; but l feel I can control them more now compare to my first days which make the delivery of instruction way easier.
I once spoke in Mandarin to attract their attention and it was effective. 🙂 And I see a considerable number of students who are willing to learn it; always asking me to teach them whenever they see me, their eyes glimmer even if it's just a simple word. I am thinking of pioneering a foreign language class to share what I know even how little it is.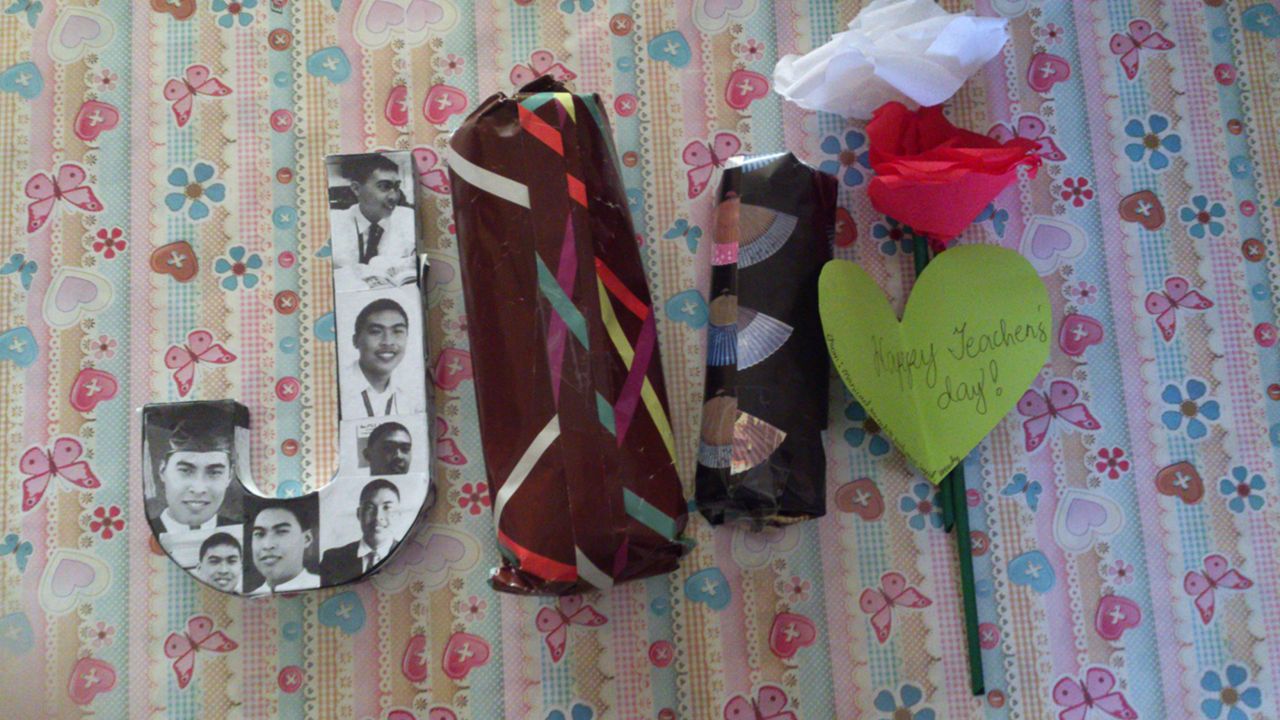 Some gifts that I received from some students during our Teachers' Day Celebration. Even without it, their greetings inspire me more!
Although I have no bread or two to share now, I would like to take this opportunity to greet all teachers here in the TFL community a Happy Teachers' Day! Not only those who are teaching in schools but every baker here who teaches every baking aficionado  everything that they know for the improvement of skills and the realization of dreams! I am so thankful to all of you!
Maligayang Araw ng mga Guro!
Happy Teacher's Day!