I did not have any plans to post this but as a record of by baking journey, I decided to post it today.
I found some candied peel last month in my favorite baking supplies store that's about to go bad (well, actually more of about to decline in quality) in 5 days which was on sale 50% off. It was expensive with it's regular price I thought, and now I can buy this without burning a hole in my pocket for me to taste it and use it in recipes. I immediately grabbed 2 bags then I thought it was the perfect time for me to try making panettone since I already have an established starter. I also grabbed some golden raisins and paid all of them at the counter. Half of the peels went to the fruit cake that I posted last time and half went into this.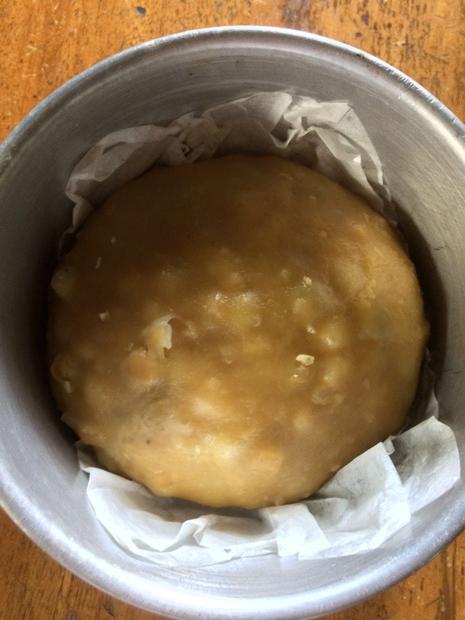 It's my dream to bake a panettone though almost everyone thinks it is a humongous challenge to make but one day I have gathered enough courage to try my hand at it. Everything was going well; my starter more than triples in 4 hours, the first dough nicely tripled until it was time to add the enrichment. Panettone is something best done in a mixer but I'm stubborn so I still went even if I only have my hands. I was surprised with how soupy it was, because it's been a long time I have handled doughs like this in addition to stress and lack of sleep I was rattled and added a ton of flour to the dough. When I finished incorporating it, it was so dry and stiff and the dough almost doubled in mass; things you don't want for a rich but light as air bread. From that point on, I know this was bound to fail but I still continued hoping for something edible. I don't want to waste those sugar, eggs and butter; I'm going all or nothing here!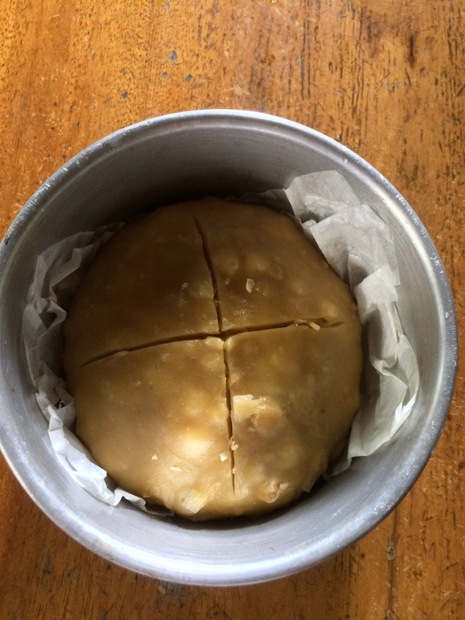 I dumped all the raisins and the candied peel into the dough and kneaded them in. After a 2 hour rest I shaped them into 2 boules (I only planned to make 1 but the dough almost doubled because of the added flour) and proofed one in the tin overnight at room temperature. The other boule was retarded for several days before it was baked because I can't squeeze it in my tight schedule due to prior commitments (and maybe also due to a little frustration). To add salt to the wound, the first one stuck in the tin so i had to pry it out and it was torn into pieces so we just ate it and no pictures. I was more careful with the second one so it had some photos, I put parchment paper in the tin so no sticking. I slashed it after proofing overnight at room temperature and baked it in my clay pot for 30 minutes with live fire and another 30 minutes over embers and this is what I got.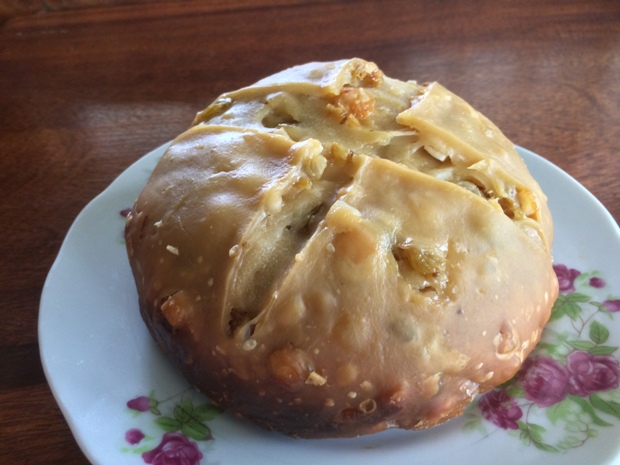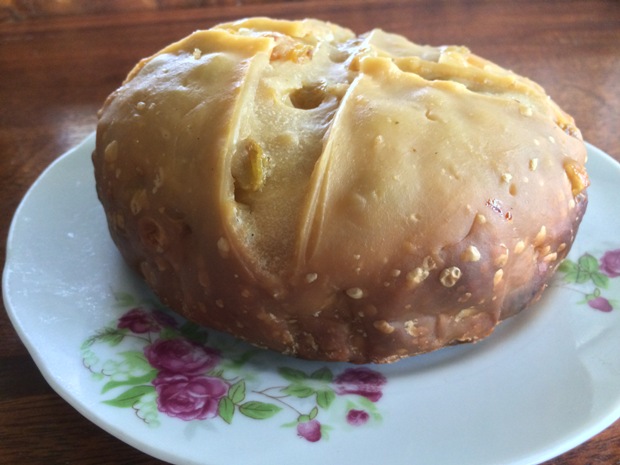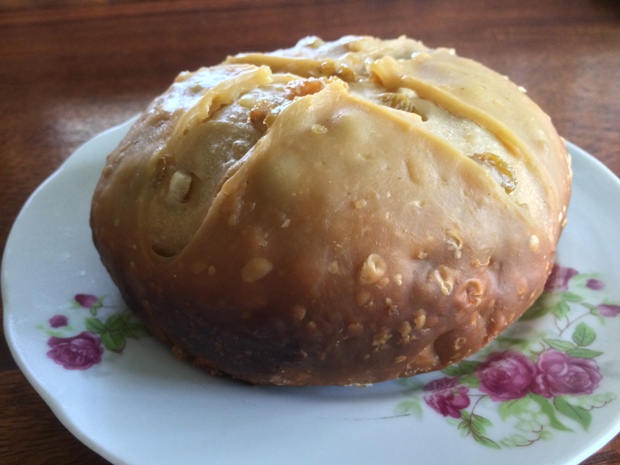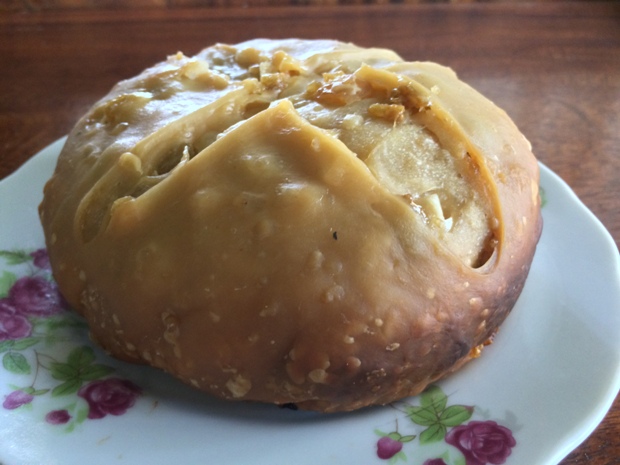 Oven spring leaves much to be desired. You can also tell it by the way the cut expanded. I did not flip it so the top was a little pale but the bottom was not burnt and is a little thick and crispy with the top soft and a bit moist. The crumb was dry and dense but studded by the raisins and candied peel.
Although it looks nothing like panettone and might even offend some PPP (People Passionate for Panettone), I still do not consider it a total failure. Only the texture suffered but the taste was superb. No tang at all, sweet, rich and buttery with the taste of the raisins and the candied peel shining through. It is very seldom that we taste something as great as this. My dad is very picky about his food but this one received no complaints from him. In fact it was the inspiration why I made the fruitcakes, the same flavor profile that my dad loves. We just found out that it wast the combination butter, eggs, raisins and candied peel that make fruitcakes taste fruitcakes and so delicious so I made  a batch for his birthday last month.
The texture was perfect to turn it into french toast but it did not see the light of the next day anymore for its milk and egg bath because it was gone in a flash! It was that good.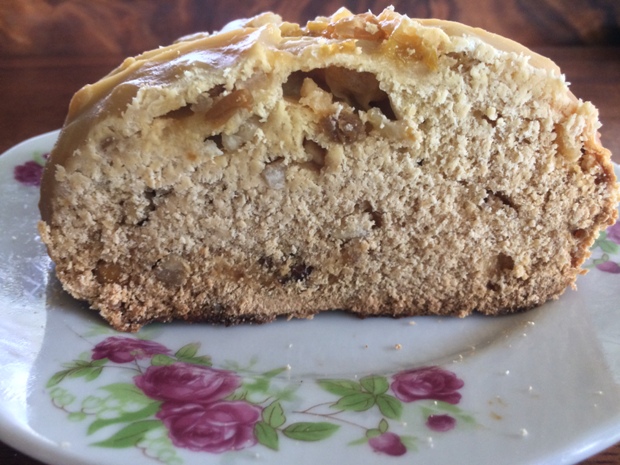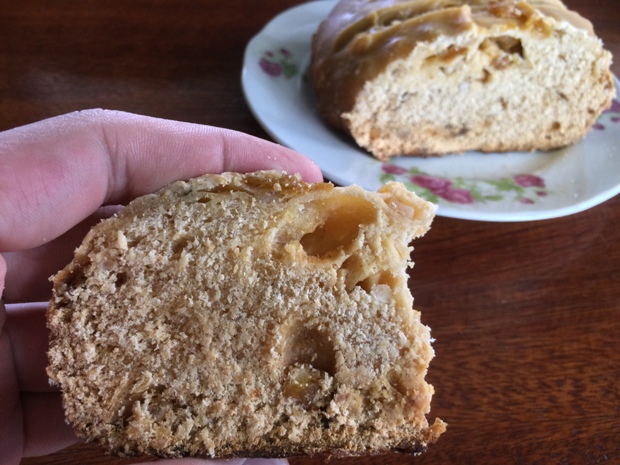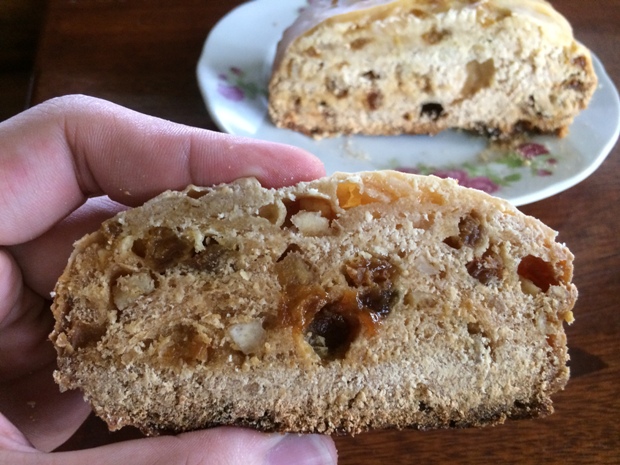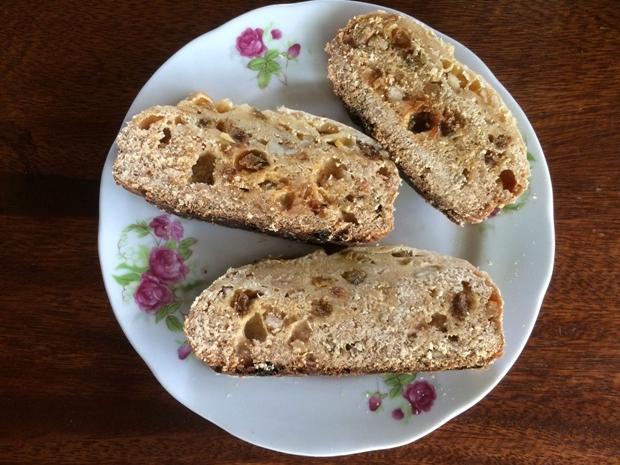 We're celebrating our 120th Independence Day today so here is a photo of me wearing our traditional formal wear. This was taken as souvenir photo when we passed the licensure exam. I'm still looking for what to wear for our oath taking. (Each teacher is a trustee of the cultural and educational heritage of the nation.)
Happy Independence Day to all my countrymen! Maligayang Araw ng Kalayaan!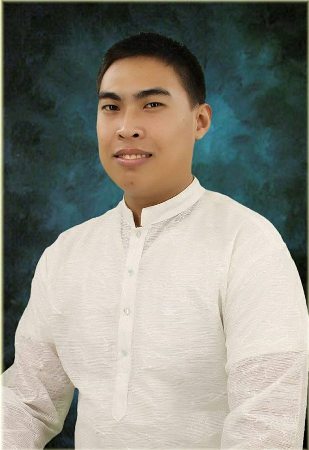 I hope you enjoyed this post! Happy baking everyone!