I was so very happy to see Ru back with us that I decided to make her Toasted Oat Sourdough.  I started of with a hiss and a roar and then decided I should check the recipe (alway dodgy to trust memory these days.)
Wednesday evening I milled the whole wheat berries and rye berries that I would need for this recipe.  I sifted the wheat flour to get the bran.
Levain Build (wednesday evening)
25 g refreshed starter + 105 g flour + 28 g bran + 106 g water. Mix and leave overnight on bench.
Soaker (Thursday morning)
133 g rolled oats, dry toasted then cooled. Then added 266 g boiling water, covered and left while I went off to Pilates.
Levain has risen but not looking as active as I would like so quite happy it is not ready yet.
Final Dough Thursday 12:30 pm
Levain is looking better, temperature has risen a bit so ok, ready to go.  Mix together 438 g bread flour + 20 g gluten + 229 g wholewheat + 8 g rye and 275 g water.  Not enough water for this dough!! Added another 55 g – still too stiff.  Added soaker and mixed in more or less.  Still to dry but will leave to autolyse 1 hour.
1:30 pm Add 17.8 g salt, 263 g levain and mix in.  It is still too firm for me so added another 50 g water.  Still think dough is too firm, I don't want a dense loaf.  I think I will add more water over stretch and folds.
Stretch and fold 3 times incorporating another 30 g water (total water is now 410 g instead of 275 g!) and dough while still firm is more pliable. Leave to bulk ferment.
7:30 pm dough has increased in volume 60 – 70% so I preshape,- Lovely firm preshape leave for 45 minutes before easy final shaping.  Dough was divided into 2 * 555 g and 1 * .675 g loaves.  Overnight retard and baked Friday morning at 240 deg C, 15 minutes lid on and 20 minutes lid off.
I checked Ru's method when I was ready to mix the dough and realised that she had used the wholewheat flour in her levain build.  I had used the bran + bread flour and the sifted wheat flour in the main dough.  This dough was super thirsty and it ends up at about 94 % hydration and I think I could have added more water still.
Question: would using the wholewheat flour this way be more thirsty than if I had used it in the levain?  Does the added gluten make it more thirsty?
Crumb shot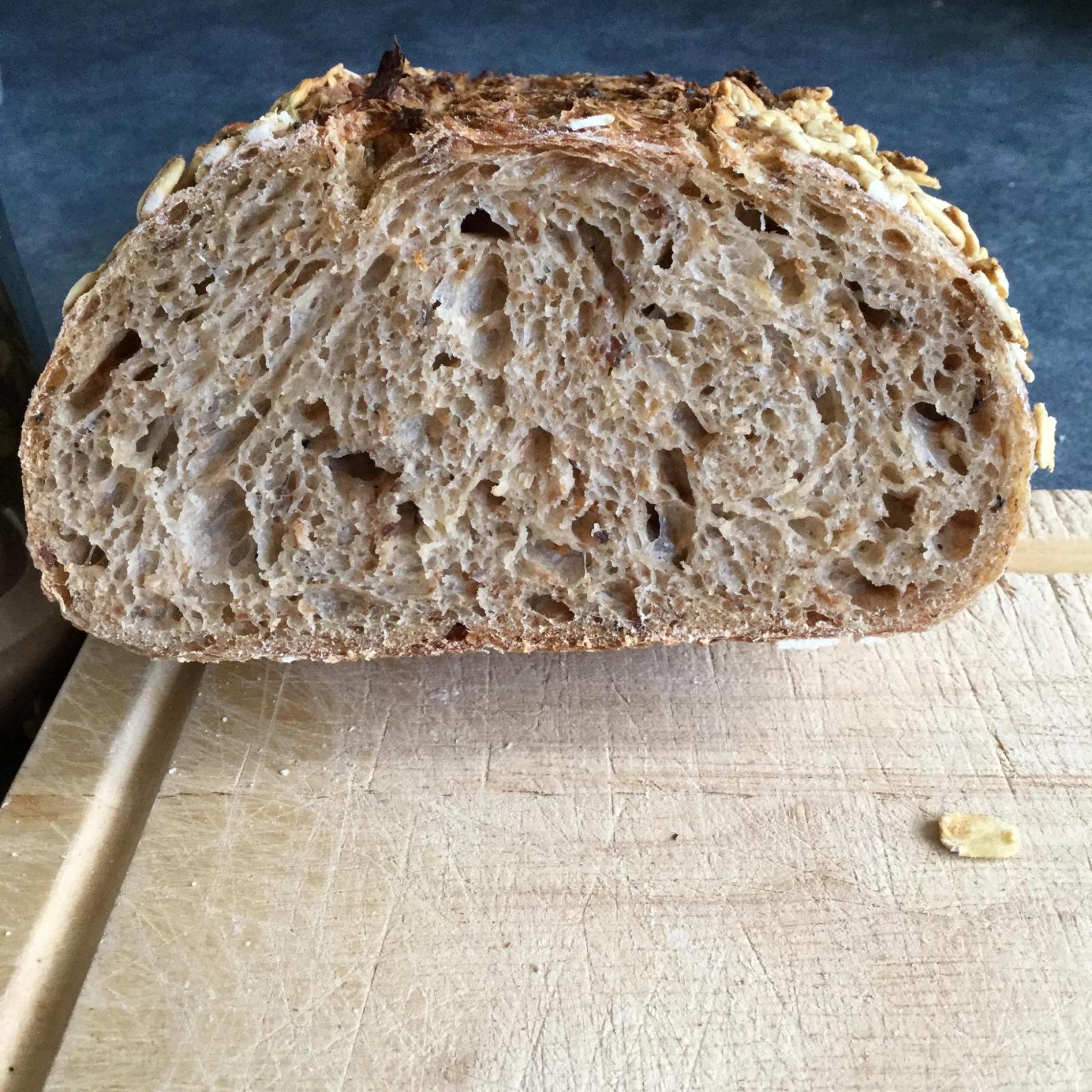 This bread is really delicious and it will certainly be made often in future.  The 2 smaller loaves were gifts for friends.
I needed some hamburger buns so I used the Hokkaido Milk bread recipe posted by Breadbabies. 100g rolls, flattened slightly before baking, brushed with milk and topped with sesame seed.  Hamburgers are on the menu tonight so I will see how it goes.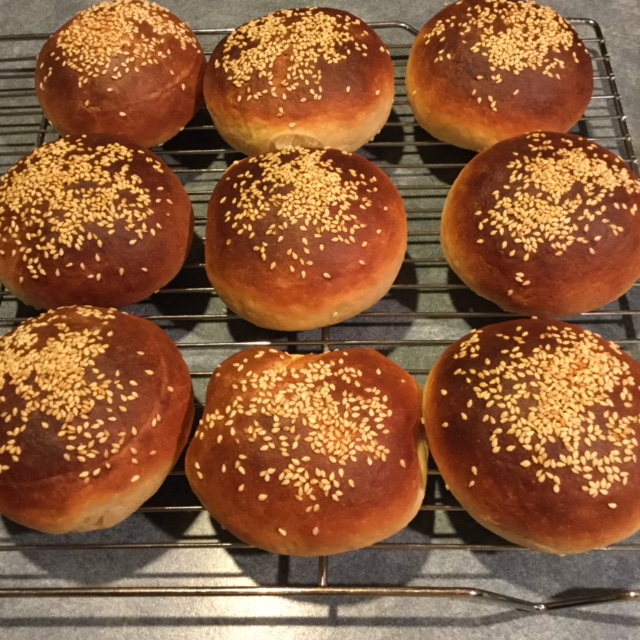 Happy baking
Leslie